Rufus Cox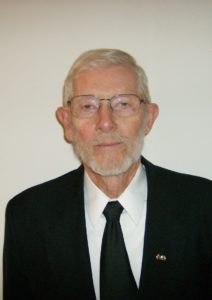 Rufus was raised November 25, 1963 in Aurora Lodge in Fitchburg, Massachusetts.
He then moved to Maine and joined Maine Lodge #20 in 1996, and affiliated with Piscataquis Lodge #44 in 2017.
Rufus worked all the chairs and was Master of Maine Lodge #20 in 2003 and 2004.  He was appointed District Educational Representative by MW Claire Tusch in 2005-2006.  He was appointed District Deputy Grand Master by MW Gerald Leighton in 2007-2008. While serving in the above capacities he also served as chairman of blood drives for the American Red Cross.
Rufus joined the Scottish Rite Masons of Valley of Augusta and Valley of Portland, Consistory in 1998.  He has been the top officer in two lines of Scottish Rite Valley of Augusta.
He received the Meritorious Service Award in June 2005. He was elected Secretary of Valley of Augusta in 2008 and served in that capacity until 2015, and was re-elected again in 2017.  He was conferred the 330 in Chicago, IL, August 30, 2011.
He is a member of the Order of The Eastern Star, since 1997 and has served as Worthy Patron several times.
He retired as a commercial Apiarist and then worked as a part-time truck driver for NAPA for several years.
He is married to Charlene and lives in Milo.  He has 3 children and 6 step-children.