Most Worshipful Thomas Pulkkinen
Grand Master of Masons in Maine 2016-2017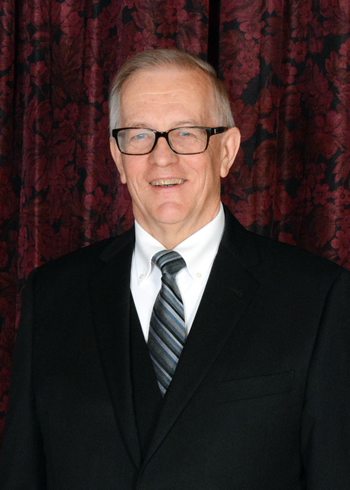 Bro. Pulkkinen was raised to the Sublime Degree of Master Mason in 1989 in St. John's Lodge in Newburyport, MA, and has served as Master and Secretary of Bay View Lodge in East Boothbay. Before returning to Maine, he was active in Massachusetts Freemasonry where he served in many Grand Lodge offices including that of Junior Grand Warden. He was editor of the Trowel magazine, and chaired or served on many committees including those engaged in strategic planning, leadership identification and development, membership, education.
In the Grand Lodge of Maine, he has chaired the Long-Range Planning Committee and started the Ambassador Program. He chaired the Finance Committee for the three years – a period when spending priorities were refocused on strengthening the Craft and our Lodges; the per capita tax was not increased; and Grand Lodge investments tripled, thereby strengthening the financial condition of our Grand Lodge. He contributes regularly to the Maine Mason.
Bro. Pulkkinen developed and rolled out the Dirigo Leadership Seminar and the Maine Masonic Mentoring Program; co-chaired the Grand Lodge Membership Committee; and advanced the Rookie Program. He authored the Guide for Lodge and Personal Mentors and the Maine Masonic Mentoring Handbook, and has also worked closely with the Insurance Committee to resolve insurance issues and implement policy enhancements affecting Grand Lodge, our Lodges, York Rite bodies and the Order of Eastern Star.
He has served the York Rite as Chapter High Priest; the Red Cross of Constantine as Most Puissant Sovereign of Maine Conclave #1; the Scottish Rite as High Priest of a Council of Princes of Jerusalem and as Valley Secretary; and was awarded the honorary Thirty-third Degree in 2001 in Indianapolis. He has served as Shrine Protocol Director and a Shrine Club President.
His Masonic activities have also included service as Treasurer of the DeMolay and Pine Tree Youth Foundation. He is a frequent presenter for the Grand Lodge speakers bureau, and is a member of the Scottish Rite Valley of the Androscoggin and Maine Consistory, Kora Shrine, Crescent Chapter of Eastern Star and the Maine College of Masonic Societas Rosicruciana. He has participated for several years on the Highlanders and Scottish Rite 33o Master Mason degree teams.
His communications initiatives have earned multiple Grand Lodge awards for Lodge histories and the prestigious Mark Twain Award presented by the Masonic Service Association of North America. He also organized the first Bikes for Books program in the Tenth Masonic District; the local program now partners with three elementary schools to encourage and reward reading by elementary school students.
He is a graduate of Edward Little High School in Auburn, Bentley College, and Stonier Graduate School. He had a 40 year career with the Federal Reserve System in a variety of analytical and leadership positions, and served his community for eleven years as a school committee member and selectman.
He possesses the vision, knowledge, experience and commitment necessary to strengthen and support our great Fraternity, and is committed to building upon the many Lodge and member oriented initiatives begun over the past few years.
Brother Pulkkinen and his wife Sharon enjoy living on the Maine coast in East Boothbay. Their daughter, Dr. Wendy Pulkkinen Loomis, resides in Seattle, Washington, where she is a microbiologist at the University of Washington and her husband Jeff works for Microsoft.