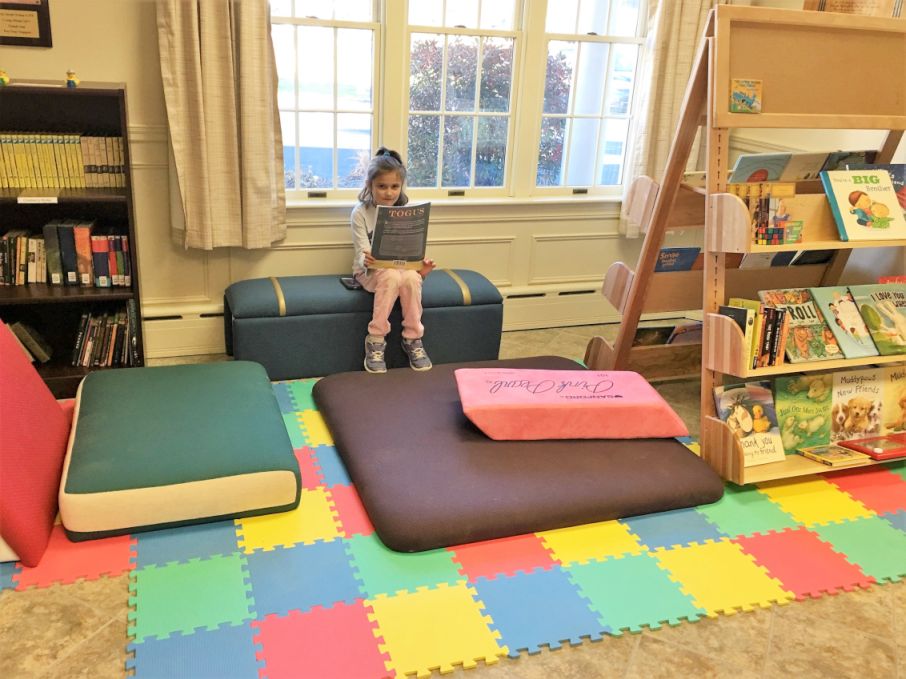 We're also pleased to be known as the HOLDEN COMMUNITY LIBRARY and look forward to providing internet access, book borrowing, and more to the surrounding communities.
When the Grand Lodge administrative offices including the Library & Museum moved to Holden in 2011, the newly appointed Grand Librarian began a new era by moving the Library's focus from simply a repository of donated Masonic books to a facility which would provide books, videos and more, encompassing a wide variety of material from current computer texts to romance, fiction, and children's books. A children's section with age-appropriate furniture and lots of books was added, making ours (YOURS!) the only known Masonic library in the world with something like this!
In the winter of 2014, the Charitable Foundation undertook a fundraising to enclose the drive-thru area of the building which, in its earlier life, was a bank branch. Thanks to the wonderful response from Masons AND the community, we met our goal and construction began even before the snow was gone. (Yes, it was a long winter but still….) Things moved along rapidly and the expansion area was dedicated in November, 2015.
Naturally, the touchstone of our collection is and will be books about Freemasonry (heck, we've been collecting them since before 1844 when the Grand Lodge first appropriated money for bookshelves). Now, though, we've added a broad collection of award-winning and popular books for children of all ages. In addition, we have murder mysteries, a whole section titled "Personal and Community Development" and books on the seven liberal arts and sciences (grammar, rhetoric, logic, arithmetic, geometry, music and astronomy). We've already added numerous books on philosophy, genealogy, history and religion, and are adding to sections on local authors, railroads, and Maine (including travel).
We can't take the place of a local public library and don't want to do so. We strongly encourage you to support them as well as the Maine State Library. These valuable resources with their dedicated staffs are true gems and greatly enhance our state's livability. (A list of Maine libraries is found here.)
What we DO want to do is provide those in proximity to us with a shorter drive to get materials to help them expand their vision and enhance their knowledge. Even as we'll be moving books into our new space, we're also working to network with other libraries and organizations. Announcements on these efforts will be forthcoming soon.
We have an online database of our holdings and are working actively to add keywords/meta tags to assist finding what you're looking for. In addition, we're actively seeking suggestions so that we can make available what YOU'D like. Rather than using an arcane numbering system, we've been grouping books together by subjects which, we believe, is more appropriate for our collection and your convenience.
The Maine Lodge of Research generously contributed a Kindle Fire containing several Masonic and other books. We've added to that collection but due to the extreme cost to libraries for electronic books and our inability to meet the requirements for a 'public library' which would give us access to a technology pool where we could be part of an e-book consortium, our electronic offerings are limited to using this Kindle (and a Nook donated by the Grand Librarian) to help members and the public get acquainted with this technology. We're also finding that some books (particularly those self-published by Masons are now available only in electronic form. There are a number of issues relative to this including, but not limited to, lending (which is not currently available due to Amazon restrictions) along with the problems faced in future years from changing technology. Rest assured that we are staying abreast of this area and always looking forward trying to ensure we 'do the right thing'.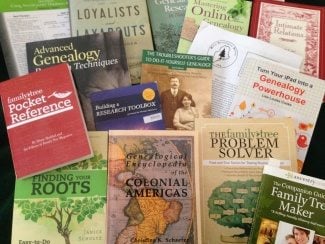 We have set up a public computer with FREE wi-fi access and advertise this on our the very visible roadside sign outside the building. We're also adding books and aids for genealogical research (check out our 'QuickSheet': Freemasonry for Genealogists).
And in addition to all of the above, we have a Lending Library where visitors can take a book (or two or three or four) and return it 'whenever'. We welcome donations to make this part of our outreach grow even further.
Check out us – and a book or two!
So what this all means is that If you need help, want 'pointers' or would like to discuss Masonic reading, research, or related topics, the Grand Librarian is EAGER to talk to you! Just email or phone. At some point in the near future, we also plan on introducing some type of social media outlet where we'll highlight new additions and happenings. Also, be sure to check out "The Old Webmaster's Bookshelf" reading recommendations as published in the Maine Mason Magazine.
If you've got time to volunteer to help out as we put things together, your assistance will be most welcome. We need help in the following areas:
Preparation of donated books to acknowledge the donor's generosity and prepare them for lending;
Book entry into the library catalog software (basic computer skills are all that's needed; we can teach the rest and it's not hard, honestly!);
Repair and conservation of older books (we have training CD's available to show you how) – you could learn a vocation which could become a profitable part-time job!;
Book binding for periodicals (again, training CDs and materials provided);
Covering books for to protect them from wear (it's amazing how easily books today can take on a worn and unappetizing appearance without this);
Creating a history of the Grand Lodge Library and Museum from a review of past Proceedings;
Reviewing Grand Lodge Proceedings to create a listing of books received for identification of missing books;
And, as the Museum regeneration begins, assisting in the conservation, documentation, and presentation of artifacts to help tell the story of Maine!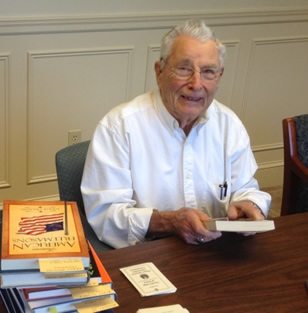 Or if you've got any other skills that you think might be helpful in this endeavor (graphics design, podcasting, public relations, and nearly anything you do), we welcome your input and energy. Call or email the Grand Librarian, Ed King, and we'll get you involved now. (Free coffee and lots of grateful appreciation readily provided! Pick your own hours and work as much or as little as you'd like. Every little bit helps!!!)
To the left is Honorary Assistant Grand Librarian Bro. William Connell who, at age 90, does as much work as any of us! You don't need to be a Mason to volunteer, though: we'd welcome anyone with an interest. We'll help you learn new skills that may help you in future advancement!
Do you have books about Freemasonry or Freemasons you'd like to donate? You may qualify for a tax deduction if you do. The Maine Masonic Charitable Foundation is an IRS qualified 501(c)3 organization so your donation will be fully deductible to the extent allowed by law. Let us know what you have and we'll be happy to discuss it with you. It's through the generous donations of Masons and their families in the past that the Grand Lodge Library has grown. We thank you for your consideration.
Want to help out by purchasing a book or two for the Library but have no idea as to what to get? We've created a (pretty long!) public 'wish list' at Amazon with a thousand or so of our 'most desired' things. Please feel free to browse and select whatever you'd like to donate. If you donate a book a month or a book a year, it will help us expand and serve. Everything on the list is something that would add to the collection or you can sort by "Priority" to see what we'd like the most! Cash donations earmarked for Library use are also appreciated or you may wish to donate an Amazon or other book seller gift card. Using locally-owned book sellers is always highly encouraged and it's a good way to support your local bookstore and us at the same time. All contributions will be gratefully acknowledged.
The Grand Lodge Library & Museum is a member of the Masonic Library & Museum Association, the Maine Library Association, and the Maine Archives & Museum Association as well as the Maine Genealogical Society and the National Genealogical Society. The Grand Librarian also holds personal membership in various other organizations such as the American Library Association, American Topical Association and their Masonic Study Group (stamp collecting/philately), several railroad-related groups, genealogical groups, and a broad variety of Masonic research organizations.
In addition, the Grand Librarian is available to speak to any group interested in Freemasonry and its history. Local genealogical and historical societies might find this of interest and a program tailored to your group's needs is generally quite doable. We may also be able to assist your museum in identifying objects thought to be Masonic. Drop us a note or give a call and ask for Ed.
We've become a Book Crossing site (right now, the most northern one in Maine!) where you're welcome to pick up a book or two and start it on a journey of enjoyment. If you have a book you've gotten through this program or want to donate a few of your books to it, feel free to drop them off with us: we know it's tough in Maine to leave books on a bench in a park at certain times of the year <grin> and this will give everyone an opportunity to read more. Click on the graphic to learn about this fun program and feel free to participate with us. Got books cluttering up your house but which others should read? Drop them off and we'll try to find a good home for them. We've just not had the time to add the hundreds of paperback books you can take from our lending library to this list but you're certainly sure to find something you'll really enjoy!

In addition, we've built a LibraryBox so that visitors to the Grand Lodge Library and Museum can freely download hundreds of public domain books relating to Freemasonry as well hundreds of classics of literature. All free – and readable on nearly any smartphone or electronic reading device. Lodges might want to consider doing a project like this too. The financial outlay is quite minimal and the directions are pretty easy but the benefit is great. (Want more Public Domain reading? There's a wonderful, current listing of 25 online sources here. And for those with sight problems, you really should head to this site.) As time moves on, we'll be enhancing this page with even more resources. There are SO many great resources out there: we're sure you know about some we don't – and vice versa.
One final note:
As mentioned above, there are many books missing from the collection that was housed in Portland. If you borrowed a book from there or if you find books bearing a bookplate or back pocket with 'Grand Lodge of Maine' on it, would you please return it/them to us in Holden or let us know where they are immediately? No questions. No fines. No recriminations. Your cooperation in preserving our heritage is greatly appreciated! While a few books have made their way home, there are many others unaccounted for still.
Also: the Library of the Grand Lodge of Maine, located in Holden, is the ONLY Masonic Library authorized by the Grand Lodge of Masons. No other 'Maine Masonic Library' however styled is authorized to hold itself out as an/the official Library of the Grand Lodge of Maine or as a/the "Maine Masonic Library".

Maine Masons, their friends, family and community members are all welcome! Come and see for yourself what we're 'up to'! Hint: it's a love of learning and enrichment of all….
Our History
(From the booklet Freemasonry in Maine, published in 2001, which you can read online here.)
"The Library of the Grand Lodge of Maine was established over 160 years ago. On May 3, 1850 at the Grand Lodge of Maine's annual session steps were taken to start a library for the Grand Lodge of Maine. At this session it was also voted to purchase a set of bookshelves at the cost of $20.00."
"Through the years many prominent Maine Masons have contributed their collections to the Library. Combined with the purchases of updated books, your Library has in excess of over 6,000 volumes, not including videos, and Masonic periodicals from around the globe."*
"This Library has been rated by one Masonic Researcher as one of the Masonry's Top Ten Libraries. Any interested Mason will find, as he did, that the Library of the Grand Lodge of Maine is a great place to do Masonic research. It is in touch with Masonic Libraries all over the world."
"The Library has books covering subjects from History of Masonry to the Philosophy of Masonry, Plays, Lectures, Masonic Music, Masonic Education, Leadership, Symbolism, Biographies on Famous Masons, Videos on various Masonic Subjects and much, much more."
*Note: Sadly, the booklet's author appears to have been given incorrect information. In the former Grand Librarian's listing of 2006 (five years afterwards), there appear to have been just under 3,000 volumes in the Grand Lodge Library holdings of which, only about 2,400 were unique titles, the rest being duplicates with, in some cases, as many as eight or more copies of the same volume. As we validate the library holdings, we have found a couple of hundred volumes which were NOT in the Grand Librarian's catalog listing, mostly proceedings from other Grand Lodges and Grand Bodies. We now have over 5,000 unique volumes in the collection and the number is growing rapidly.
Sponsored by the Masonic Charitable Foundation, the Grand Lodge of Masons in Maine Library seeks to provide learning opportunities for not only Maine Freemasons but also their families and the communities in which they live. We're open to all and encourage you to take advantage of what we have to offer. Borrowing books? Absolutely! If you're a Maine Mason, your dues card is all you need. If you're not, we ask simply that you complete a short application form.